Goodbye August . . . Glad to See You Go!
Summary only available when permalinks are enabled.
The health care debate has consumed a great deal more of my spare time this month than I would have wished. I've written about it in this blog because I'm convinced that reform done the right way is of huge importance not only to every citizen, but also to the business sector; and if a faulty system is forced on us, the impact on people and businesses could be catastrophic. In spite of the inconvenience to anyone who has participated in the debate — on either side of the issue — I believe the furor it has caused ultimately will be helpful. Politicians and citizens now have no excuse not to know what's going on. Yes, I'm still smarting over the fact that my Senator stated publicly that those of us who came to his Town Hall meetings "did not represent America." But he is paying attention now, even promising to read the bill. What a concept! And someone in the White House is paying attention as well, because that sophomoric and disgraceful item on the White House website that asked citizens to snitch on those who were opposed to the reform bills has disappeared.

Turns out that my local TV station recorded the entire debate, so I decided to watch the whole thing again to see what I might have missed while I was making pictures, as so much was made of our particular Town Hall meeting in the national media for nearly two weeks after the event. (I'm astonished at the number of people who were in touch when they recognized me behind my camera on film clips). I continue to believe that what went on in Lebanon, PA — and at other Town Halls during August — was about as American as it gets: everyday people demanding information from their government that they have every right to receive and being determined to hold their representatives accountable for their actions.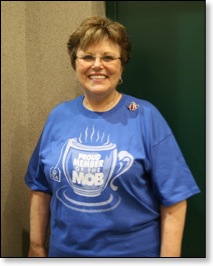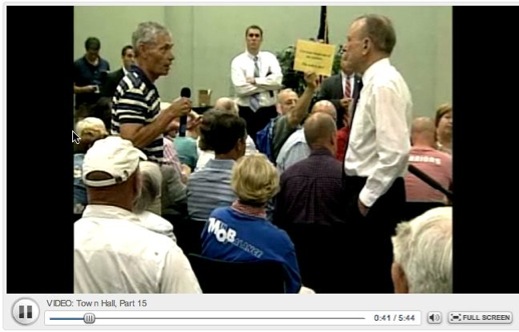 The very nice (and quite polite) lady in the teapot shirt, shown above, was the last person at the Town Hall meeting to ask a question of Senator Specter, and you can hear her "unAmerican" question (along with that of the gentleman shown above) for yourself in a video clip by
clicking here.


Anyway, I'm glad August is over. I think I would have gone nuts if it hadn't been for two great classes, for Marathon in Nebraska and for Studio Management Services in Dallas. Usually take photos at classes, but I left without a camera.

Another source of nourishment during all this debate were the writings of my favorite op-ed columnist, Charles Krauthammer. I watch the news on
Special Report,
during dinner every night, in hopes that Krauthammer will be providing commentary. Only a year ago I learned that this highly respected medical-doctor-turned-public-policy-wonk-turned-Pulitizer-prize-winning-editorial-writer has spent most of his life in a wheelchair because of a diving accident when he was in medical school. Because of his medical background and keen understanding of economics, I find his commentary on this issue to be especially instructive.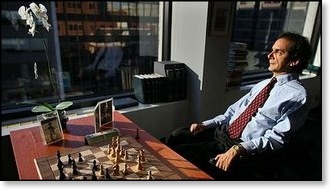 Here's what you'll learn if you read Krauthammer on the subject of health care reform:

Anyway . . . August is history, and I'm glad. It will be great to get back to business now that the legislators are back in D.C. I just hope that the Congress doesn't do us in with its "business": which calls to mind a recent photo that you might not have seen if you were not following the debate online. I know that it should be beneath my dignity to share this photo, but it SO sums up what I am feeling, and I just can't help myself. Here it is . . .