Like most everyone, I've been glued to the TV watching the hideous drama of human destruction play out in Haiti. It is compellingly heartbreaking in spite of exhilarating moments such as the Pulitzer-worthy image captured by New York photographer Matthew McDermott at the instant a beaming 7-year-old boy named Kikki was pulled from the rubble by a New York City search and rescue team after being buried alive for eight days. Moments later the team freed Kikki's 10-year-old sister Sabrina. You can see more of McDermott's extraordinary images by clicking
here
.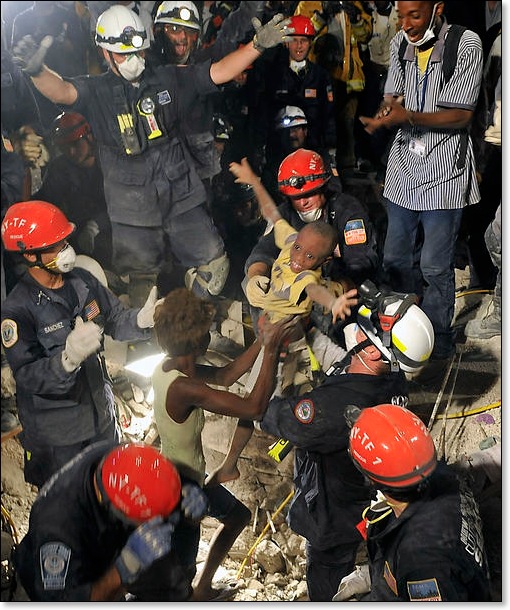 Unfortunately, triumphant moments like this will be few. The reality of Haiti's future was realistically addressed by newscaster Shephard Smith, who knows well the despair that sets in when disaster strikes as it did during 9-11 and Hurricane Katrina, which Smith covered so well.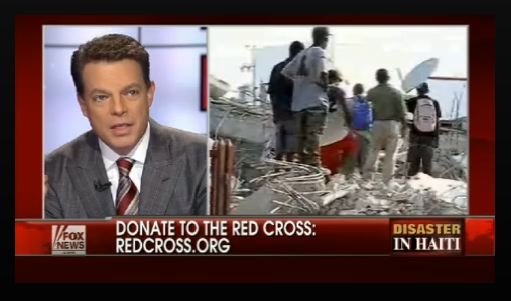 Smith was reporting on a woman who had all five of her children in the quake, and he was reflecting on seeing her being held down by her husband in an effort to comfort her. "The desperation is really hard to imagine. I have a pretty thick skin I have seen a lot of stuff. I can ignore a lot of stuff . . . that kind of loss is horrific in any culture, but in a culture where you're alone . . . it just makes it all the more difficult . . ." Here's what Smith had to say as Harrigan choked up of what he was seeing:


With folks on top of a pile that includes human remains below and very, very difficult days ahead, I think alone might have been the word. It's hard from a couple thousand miles away to look at a woman who's lost four children in the earthquake and the fifth child in the aftermath who has nothing and no prospects for anything. It's hard enough to watch it from here, imagine watching it from there and smelling it.

If you've ever been to a horrible disaster, if you've been unfortunate enough to do so, it's often that sense that people elsewhere cannot have that brings you back to that place. For instance, New York, 9/11- it had a smell; it was metallic, it was fuel, it had its own thing and you'll never forget it. New Orleans had its own thing, similarly. Haiti is going to be, for everybody who covered it and everybody who lived through it, the smell of death and it will not go away for weeks or months or years because you see the process of excavating- it's very slow.

And, quite frankly, I'm told the looters follow in behind. And the uncovering of the dead becomes a show with a lack of anything else to do and a lack of water and food. This is a story where the pictures are going to look the same over the days ahead and we are all going to get bored with it because we always do, and then they'll all be truly alone, and then they'll really need us.


Sadly, the pictures today do look the same, in spite of hard work and good intentions. Let us pray the world does not get bored with those pictures.