September/16/2008
If you haven't signed up for Family Portrait Month, scheduled for October, it's not too late. In fact you can use this wonderful charity-driven marketing opportunity any time you want for either or both of these reasons: the altruistic reason of supporting one of the most appealing charities anywhere — Operation Smile — or for the practical purpose of building business for your studio while enhancing your community image. In my opinion you do both when you choose to raise funds for one of the most perfectly matched charities for portrait photographers who, after all, frequently make our livings by capturing the beautiful smiles of children.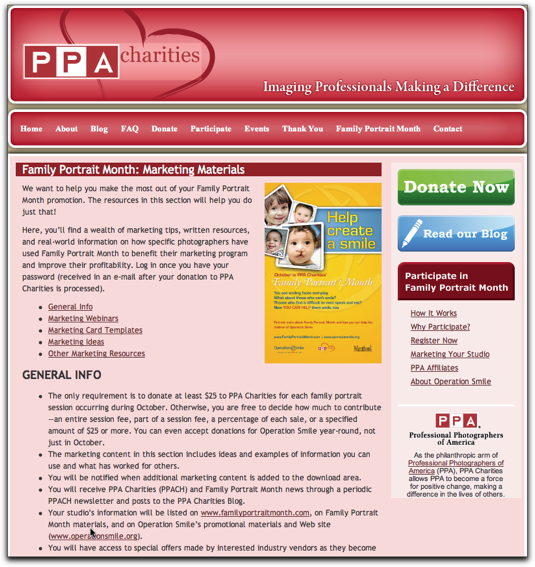 You can sign up for Family Portrait Month by contributing only $25 to PPA Charities, which supports this cause-related marketing effort. Once you've registered, you'll receive a password that allows you to download marketing resources and read about how others have used the promotion to benefit their businesses. And as I said . . . it's not too late to use the promotion in 2008. In fact I'll be doing just that, because Jim and I will be vacationing in Ireland for most of October. So we're sending a sales letter to all clients who have spent $1,000 or more with us, explaining that during November and December, they will pay no session fee (unless they want to donate it to Operation Smile), and we will send 10% of their portrait sale to Operation Smile. Some of these payments will, of course, carry over to the 2009 Family Portrait Month campaign, but no matter . . . we are happy to participate at any time of the year: it's good business.

To learn about PPA Charities, Family Portrait Month, and Operation Smile,
click here
.

If you don't want to waste any time getting started you can
click here
to make your $25 (or more) donation. And whatever you do, take just a few moments to view some beautiful photographs, made by Dallas photographer Angie Weedon, who, as the top 2006 Family Portrait Month contributor, was privileged to photograph an Operation Smile Mission in Honduras. Please
click here
, and you'll see just exactly why your participation in Family Portrait Month is so important.