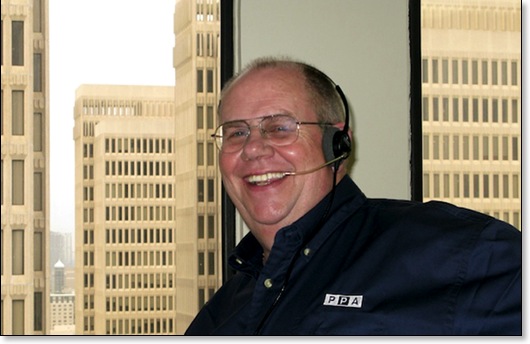 While I was at PPA Headquarters last week, I stopped in to visit with Al Hopper, PPA's Director of Membership, and I caught him in this photo as he was talking to a member on the phone. This is exactly how I think of Al . . . serving members, which he has done since 1994 . . . always with an expansive smile that is his trademark. Al will be leaving PPA at the end of this year, and he will be sorely missed by the thousands of members he has assisted over the past 14 years. I was privileged to serve as a PPA volunteer during Al's entire tenure. He reminded me last week that I was the first PPA member he met when he moved to our Association from his previous employment with the Boy Scouts of America. At the time I was serving as chairman of the Membership Committee, seeking ways to recruit and retain PPA members after the association's move from the Chicago area to Atlanta. Al paid me a visit at my lake house in Maryland just prior to taking up his PPA post, and I was immediately drawn to his can-do attitude and energetic manner. This was a critical time in PPA's history, as the Association was still recovering from a period financial instability. My how things have changed! Today PPA is recognized as one of the most stable membership organizations in the country, and our 1994 membership of 10,000 has grown to 24,000 today. Al, along with PPA's exceptional professional staff, were the driving force behind this success. The many members whose lives he has touched will never forget his kindness and his larger-than-life personality. We will miss you, Al!
I spent three delightful days this week teaching an SMS Workshop in Atlanta. I'm happy to say that we had a sold-out class with a longer than usual waiting list. What this tells me is that in spite of today's economic challenges — or perhaps because of them — photographers are recognizing that a mastery of business fundamentals is always essential to business success.



I had the great pleasure of teaching with the amazing Julia Woods, a former student of mine who has become a spectacular business manager and teacher . . .


. . . and Carol Andrews, a marketing and sales goddess and one of the industry's truly wise women. Carol taught with us in spite of the fact that she is still on the road to recovery from the fire and wind damage done to her Houston home studio during Hurricane Ike.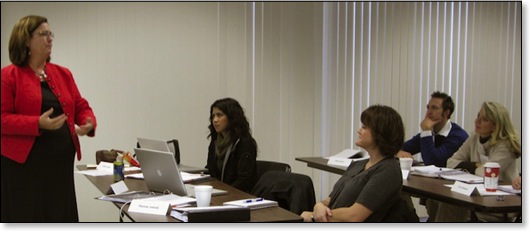 Due to fortunate scheduling, the PPA Executive Board was in town during our workshop, so we were able to prevail upon PPA President-Elect Ron Nichols to give the class a demonstration of
ProSelect
, along with suggestions for improved workflow.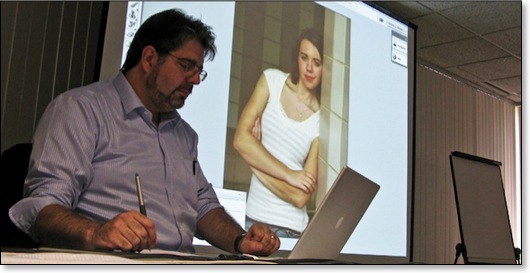 If you have an established business and are interested in attending the next workshop, it will be held in Atlanta on February 23-25, 2009. For those who are new to the industry or want to get off to a great start in 2009, a Business Basics Workshop is scheduled for February 21-22, also in Atlanta. For information or to register, contact SMS at (800) 339-5451, ext. 244.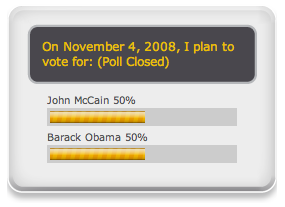 When my thoroughly-non-scientific presidential poll closed on election day last Tuesday, I was a bit surprised to view such round numbers: 100 photographers voted, and the result was a dead heat: 50 for McCain and 50 for Obama. I didn't expect that photographers would mirror what turned out to be the actual popular vote division of 53% for Obama and 47% for McCain because frankly I expected business owners to vote in larger numbers for McCain, purely on the basis of Obama's stance on increasing business taxes.

In the final days of the election, I was delighted to have my mind distracted by Helen Yancy's annual Digital Art Class at my Deep Creek, Maryland home. It's one of the highlights of my year to have Helen spend time at Deep Creek and to meet a new group of digital art students. This particular group was undoubtedly the most advanced group Helen has taught at my place, and the entire class was a pleasure to be get to know. Here we are outside on what most probably was this year's last day of Indian summer weather.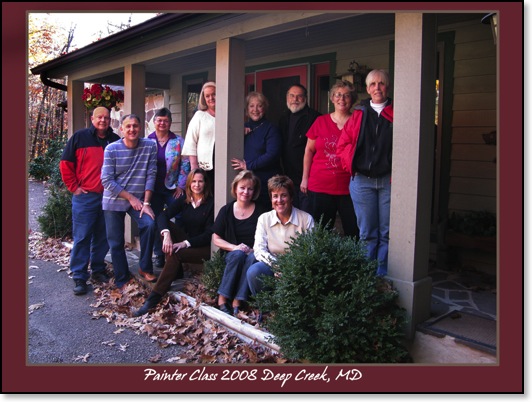 I think I finally began to make progress on using Corel Painter during Helen's class. My digital progress has been decidedly slow, but I'm finally beginning to be comfortable with Photoshop, and I managed to complete my first "I-did-it-myself" painting (see below). Wow was this fun . . . kind of like finger painting for adults! Can't wait for next year! If anyone wants to get on the list for Helen's 2009 class, just drop me an email.