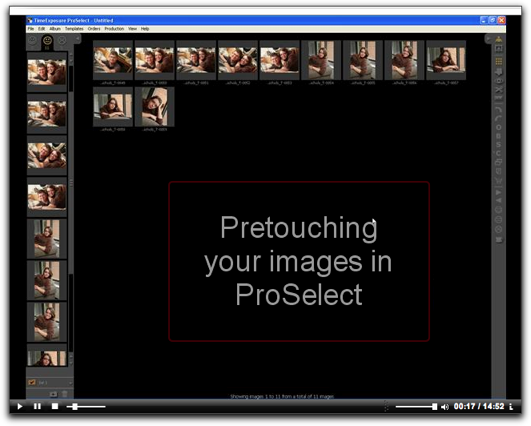 If you are a ProSelect user who is not taking advantage of the software's Apply Custom Effects feature (the C icon on the right-hand tool bar), then you need to stop what you're doing
NOW
and click on this
video link
that I just received from Ron Nichols at Ron Nichols Digital Solutions. It will take you to a really helpful, short video tutorial. I'm embarrassed to admit that I've haven't taken the time to learn how to use this fantastic feature . . . that is until I saw Ron's video and realized how
EASY
it is to activate and how much benefit you receive by installing
Imagenomic's
Portraiture plug-in for "pretouching" your images in ProSelect. I even own the Portraiture filter, but have been using it independent of ProSelect. If you haven't seen it, Portraiture is just fantastic for pretouching and as a diffusion tool in retouching. There's a sizable discount code available in Ron's video, so be on the lookout for it.

So why pretouch through ProSelect? In a matter of seconds, you'll have faces and blemishes on any other areas of skin (such as "diaper designs" on babies) looking so much better in your projection sales presentation, and you won't have to do time-consuming retouching. Pretouching also is great if you are printing proof pages or even exporting images for an iPod slide show. What's more, you can enable the pretouching (and any other actions you run through Proselect) to carry through to finished prints by using ProSelect's integrated Production module. I don't do much production in-house, but when I have to do my own printing of client work, I use ProSelect from start to finish, and it is SO slick!

When I learned from the video how easy it is to add actions to ProSelect, I immediately added some that Ron provides at no charge on his site. Download instructions are on the video. I particularly like the "Glamour" filter. It's great for seniors, and I also intend to use it for a new line of . . . believe it or not . . . Glamour-Pet Portraits. I hope to create some samples on Saturday, so the video came just in time.

Of course now that I know how to add actions, I want to add ALL my favorite actions; however at present ProSelect has only 5 Apply Custom Effects slots. But not to worry: Ron tells me that the new ProSelect upgrade, which is now in beta testing, has many more slots available. Wow I can't wait!

I'll be amazed if you are not impressed by this wonderful ProSelect feature, so give it a try, and let me know how it goes!