March/21/2009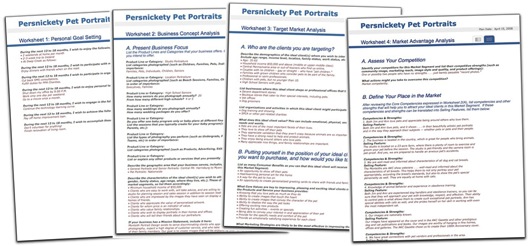 Timing is everything they say, and the timing was perfect last spring when Jim and I began to plan our new business venture: Persnickety Pet Portraits. Our planning coincided with my development of a worksheets for Marathon's new Strategic Marketing Plan Workshops. So I decided to use Jim and myself to test the process. First, I had Jim complete all 12 of the work session worksheets to assure that the questions were easy to understand. Then I completed the 12 worksheets myself. Finally, we worked through the worksheets together to iron out any differences we had in our approach to creating the new business.

I can't say enough about how valuable this process was in helping us to achieve absolute focus on the task at hand; Jim and I have built two businesses together: The first one—Countryhouse Studios in Annville—could rightly be called a monument to planning failure; but we had learned our lesson when we created a strict financial and marketing plan for the Monteith Portrait Studio and Gallery in Lancaster. Using the worksheets to help us plan Persnickety, however, made our work so much more focused and in the long run a great deal easier, because it covered on all the elements necessary to build a meaningful brand, and I am far more confident that the marketing strategies and materials that we selected will be effective and will truly add meaning to that brand.

The process itself assures that you stay focused on the brand you are building by asking you a series of questions contained in a self-extracting computer application that Marathon helped me to develop. Each worksheet tackles a different marketing issue, and when they are completed, the worksheets can be printed out (as you see from these illustrations) so that you have a reference document in front of you to keep you on task as you implement marketing strategies. By the time you have completed the process, any copy you will need for marketing pieces is virtually written for you in the form of "selling points." These worksheets, of course, are what Mark Weber and I use during the work sessions at the Strategic Marketing Plan Workshops that we teach together. The next workshop is scheduled for
May 18 and 19 in Minneapolis
, and I strongly recommend that if you are struggling with any aspect of marketing your business, this workshop will put you on the right track. I can assure you there is no more effective resource in the industry.

Getting your marketing act together is especially important during challenging economic times, when the tendency is to "pull back" because the market is uncertain. What I learned during the recession that was on when we started our Lancaster business is that my marketing was doubly effective, because competitors were lying low. Ironically, the recession actually improved our visibility in a new market.



An example of one of the work session exercises is the completion of three strategic directives about your business that will help you to stay on course when you are marketing. These three elements our briefly explained below, and I have included the actual statements I developed for Persnickety Pet Portraits after going through the process.


Building a Mission Statement

The purpose of a Mission Statement is to help the business stay on course. Well-managed organizations look to the company's Mission Statement when approaching strategic decisions by asking: Will this action be consistent with our Mission? A Mission Statement contains the following elements (in any order): the business purpose (the opportunities you address); the business itself (what you do to address these needs); and the values (principles or beliefs that guide your business).

Persnickety Pet Portraits Mission Statement

Our mission is to reflect the joy pets bring to the lives of our clients through personalized, decorative art and accessories that honor the compelling bond between pets and the people who love them.

Establishing Your Sustainable Competitive Advantage (SCA)
The purpose of a Sustainable Competitive Advantage is to summarize how the business intends to survive against competition over time. A Sustainable Competitive Advantage is derived from an organization's Core Competencies—those areas of specialized expertise that:

Provide specific consumer benefits.

Are difficult for competitors to imitate.

Are capable of developing new products and services.
An organization's Sustainable Competitive Advantage typically is expressed in bullet points that should be easy for anyone associated with the business to remember.

Persnickety Pet Portraits Sustainable Competitive Advantage

Our photographers are nationally known for their skill and artistry in creating exceptionally pleasing, heartwarming portraits of pets and the people who love them.
We understand why pets are so important to the lives of our clients because we are pet lovers too.
We are experienced dog handlers, and we understand cat psychology.
We create custom heirloom-quality portrait art rather than cutesy calendar-style photos.
The studio and grounds are totally pet-friendly.
Our business has grown through the referral of satisfied clients.
Something WONDERFUL is always happening at Persnickety!
Creating Your Unique Selling Proposition (USP)
The purpose of a Unique Selling Proposition is to sum up why consumers should purchase from you rather than others. Written in sentence form, it should be brief, succinct, and compelling enough to persuade consumers to give you a try. Much of the content of your USP is likely to be derived from your Mission Statement and Sustainable Competitive Advantage; but this statement must contain persuasive marketing content as well.

Persnickety Pet Portraits Unique Selling Proposition

Through our unmistakable expertise in photography, our comprehensive knowledge of pet behavior, and our proven ability to earn the respect of our clients, it is our pleasure to honor the compelling bond between pets and the people who love them by creating personalized decorative artworks designed to touch the heart and warm the home.

In future posts, I will be showing other marketing pieces that grew out of these strategic directives as well as the plan Jim and I created. I believe that they will help you to recognize just how valuable the process was in helping us to refine our marketing focus.